The CABRIO
CLASSIC STYLE - TOTAL EXHILARATION
| | |
| --- | --- |
| Finished build from £7,800 | |
Classic looks and rapid performance speak for itself, please listen to what our customers have said regarding their 'Build' of Mk1 & Mk2's -
"The Cabrio's electric side windows, proper heating and demisting facility, plus an excellent soft top were all vital deciding factors, along with the fact that it is a one donor kit car."

"As the build progressed, never did I once find myself regretting my choice."

"With all that excellent weather gear and the Cabrio's other practical features, the car gets used as often as possible."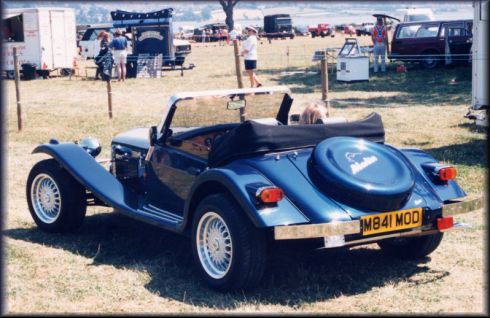 Of course the motoring press have also raved about the earlier Cabrio's, please read on -
"This car really does handle like a circuit racer and yet, rides like a grand tourer."

"I can testify to the effectiveness of the hood, no draughts or undue noise. Also with the heater on full, the windows up and the hood folded neatly away, the pool of warm air trapped in the cockpit keeps cold days at bay."

"Chassis responses are instantaneous - acceleration is fierce; roadholding is pure sports car, all done in genuine comfort."

"A classic with zero scuttle shake - a hallmark of all Marlin kits."

"What can I say - this Cabrio kit is superb in every detail. As always, the quality of
the Marlin kits never fail to impress me."
Javelin aspire to the same high standards with the new Mk3 Cabrio,
now using all BMW running gear.
Friendly efficient service and product excellence is paramount to Javelin's business ethic!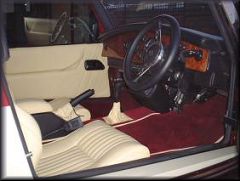 Technical Specifications

MK3 Cabrio (Typically using BMW 325 E30 model)

Suspension:
Front - Marlin engineered Double wishbone, coil spring & damper.
Rear - BMW independent semi-trailing arms, coil spring & damper.
Steering:
Rack and pinion.
Brakes:
BMW dual circuit discs all round.
Wheels and Tyres:
Typical sizes used - 195/65x15, 205/70x15, 215/60x15 on 6" to 7"J rims.
Chassis:
Marlin engineered Peripheral frame semi-monocoque platform chassis with galvanised floor pans. Steel front and rear bulkheads and transmission tunnel. Integral windscreen frame roll-over bar.
Bodywork:
Aluminium four piece louvred bonnet's, doors and inner wings. Composite nosecone, outer wings and tailpiece with boot.
Interior:
Heater/demister. Wind up/electric windows. Burst proof door locks. Many other options available.
Dimensions:
Length - 12' 9" / 3.88m.
Width - 5' 6" / 1.66m.
Height - 4' 0" / 1.22m.
Wheelbase - 8' 10" / 2.69m.
Kerb Weight - 16.7cwt / 850Kg.
Performance: (Typical engine)
0 - 60 circa 5.5sec. Maximum Speed - 115+ mph.
* Note: Many and varied engine options.
Fuel consumption:
36 - 42 touring (est. 2.5 ltr)
Engine Options:
Many options, see 'General Information in the 'Info Pack' section.