JURASSIC CLASSIC
The 1999 Jurassic Classic Run Report.
"Marlin Cars Jurassic Classic Car Run".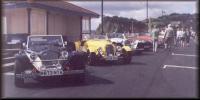 All assembled once more along Teignmouth Sea Front, it was warm sunny weather and we were full of anticipation, of the fine views about to be encountered, on route to Weymouth.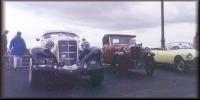 As well as Marlin Hunters and Sportsters, The 1999 entrants ranged from a new MGF with the registration number " MGF1", to a superb 1932 Morris Minor Tourer.
There were many sports cars representing the 1960's period, TR, MG, Sunbeam and Healey to name but a few,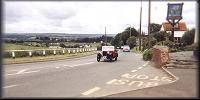 plus a group of more modern classics.
Following the now established coastal roadway, we travelled via Dawlish and Powderham to cross the River Exe at Countess Weir; we then proceeded down the eastern side of the Exe to Topsham. At Topsham the route 'Zig Zagged' across the mud flat marshes and past the wonderful old Bridge Inn (This is the only inn that Queen Elizabeth has ever entered voluntarily!)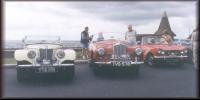 This led us across to Woodbury and Woodbury Castle (ancient earthworks), giving spectacular views of the whole of Lime Bay. Travelling by Nigel Mansell's golf course we entered Yettington, a quaint village near Bicton and onto and down Peak Hill into Sidmouth. This is famed for its use in the MCC London - Exeter trial back in 1928.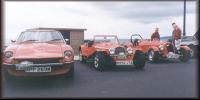 The magnificent climb out of Sidmouth up Salcombe Hill, tested the trialists in the 1920's and 1930's before it was tarmacked, but today it held few terrors for the intrepid "Jurrasic Runners".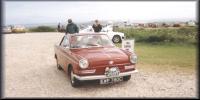 Narrow roads through the "Holden" Farway Valley en route to the lunch stop in Colyton caused a few worries for a few of the larger cars, but fortunately there were no scrapes!

After a leisurely lunch, the run continued through the Dorset countryside approximately fifty miles, which allowed us to admire a very different landscape.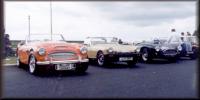 We then proceeded inland to Musberry Hill and eventually to Beamington, in order to climb White Sheet Hill. This again was another notorious trial's hill in the 1930's.

Along to Hardy's Monument, some cars travelled by way of the old roman road. Many from the entourage climbed the steps of the monument in order to view the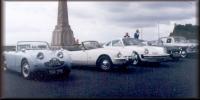 spectacular ruins of Weymouth bay.

After being refreshed with ice cream at this point, it was back to the cars for the final leg, a run down into Weymouth for tea and biscuits and to swap tales of a grand day's adventure.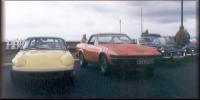 Report - Mike Dalby
(Crashbox & Classic Car Club of Devon).