JURASSIC CLASSIC


The 1998 Jurassic Classic Run Report.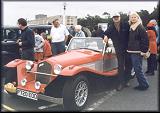 The second running of the tour from Teignmouth to Weymouth attracted a greater entry than the previous year.
Run on the same format but keeping to the more minor roads and venturing up some of the old classic trials hills - which fortunately are now tarmac surfaces.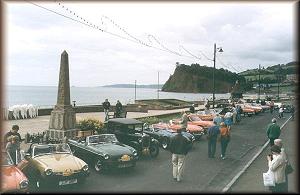 The majority of the cars were of the 1960's period with the notable exceptions of Ashley Golds 1930 Austin Seven saloon and Mr Elstons Austin Seven sports, both out on their first outings for many years. There were also three Marlin Hunters, two Marlin Sportsters and many other 'Breeds' to power up the hills.
When all had fastened on their rally plaques and received their route instructions, Terry Mathews managing director of Marlin Cars flagged away the first starters.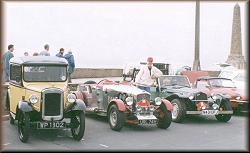 The run through Dawlish and up the side of the Exe estuary past Powderham was picturesque if uneventful. Passing Powderham, Nicola and Phil Erith in their Sunbeam Alpine were wondering if all their arrangements for the forthcoming static rally there would be successful. The river was crossed via the lift bridge and the drive up to Woodbury and over the common afforded some picture perfect postcard views of the run so far.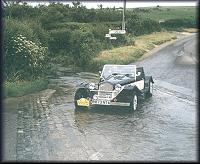 The route then wound its way to the top of Pin Hill, for the decent into Sidmouth (Pin Hill was climbed in the 1928 Motor Cycle Club Exeter Trial). After passing through the ford in Sidmouth , the main road was crossed to take the "runners" to Harcombe Hill (This hill was also used in the 1928 Exeter), and the larger Riley RMA of Mike Chalmers found the steep tight bends "interesting!" John Reeds Cortina had no problems. The lunch break at the pub in Colyton offered a chance to walk across the road to view the 'old world' garage.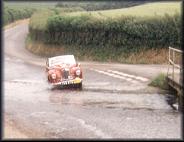 Crossing the new A35, the old road was used before turning to Beaminster and another old trials hill, White Sheet Hill, used on the 1928 'Exeter' before being tarmaced . Easy these days, but when stony and rocky, as a farm track would be today - very long and testing!
The run over Batcombe Down, afforded a glorious view over the village nestling beneath, to the typical unspoiled Dorset countryside. Turning then for Weymouth, the Cerne Abbas Giant was passed, to another ford. This proved no problem for Mr Hopkins in his 1953 Sunbeam Alpine.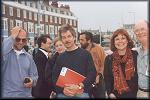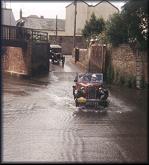 Finally passing through Upwey, and then the Wishing Well, Weymouth arid a welcome cup of tea was soon in sight. Happily all the participants judged the run a great success, so it is certainly to be developed further and will run again next year.
Report - Mike Dalby
(Crashbox & Classic Car Club of Devon).