Which Kit Magazine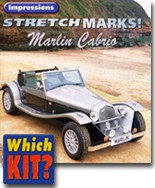 Impressions: Marlin Cabrio.
STRETCH MARKS! - Marlin Cabrio

Stretched by some four inches. the new long wheel base Marlin Cabrio not only has more interior space but also added stature.
Ian Stent has checked it out.

WHILE MARLIN'S SPORTSTER may have been grabbing much of the limelight over the last few years. development of the existing Cabrio has continued at a pace. Most of the tweaks may have been subtle modifications barely visible to the amateur enthusiast, but several are more significant -the most obvious of these has been letting an extra four inches into the wheelbase.

While the Cabrio cockpit has never been exactly cramped, the extra length means drivers up to around 6'6 should be able to get comfortable, but it's not only from a practical point of view that the mods have been beneficial. The new Cabrio looks less square and more slender than the existing model - it has a more cultured and mature look to it that's wholly pleasing to the eye.

Marlin's latest demonstrator has a number of other features that go to make it that extra bit special. Built to what the company calls its Cabrio S specification, the car features an additional rear anti-roll bar as well as a stiffer front anti-roll bar. Discs on each corner ensure there's also plenty of stopping power while under the bonnet of this particular example is a hulking great BMW 325 straight-six engine developing a smooth 192bhp. Out of a two year old example, the unit comes complete with BMW's variable valve timing and can be picked up second hand for as little as £1500 complete with Getrag 5-speed gearbox. engine loom and ancillaries.

As with all Marlin's demo cars, quality of the build looks achingly high - everything fits to perfection and, straight Out of the box, this car feels right. There's just something about the Cabrio design that we like - while it's undeniably retro it doesn't seem to shy away from the fact that it's actually brand new. Inside the cockpit you'll find modern dash components with not a single toggle switch in sight. You'll find modern luxuries such as central locking, electric windows and a powerful heater and demisting system which actually works - Royale's Sabre works on this same successful mix of old and new.

The Cabrio was always an easy car to get in and out of but, with two extra inches in the doors1 even with the soft top raised it's an action which requires no thought whatsoever. The Cabrios specially commissioned seats have always been supremely comfortable, but these brand new ones felt a bit over-firm and needed time to settle in - apparently it's a trait of all Marlin's seats, which soften up the more they get used. No problems with the driving position - everything as it should be and the seat easily adjusted. Granada column stalk controls look great (the Sierra column is an option) and the company reckons it would be easy to retain the column adjustment that comes with Scorpio donor cars.

We've always been impressed with the trimming of Cabrios, with everything seemingly well fixed and practically designed. A factory finished car is back at the factory having been assembled in 1996, and it looks virtually brand new. The doors on the Cabrio are aluminium rather than fibreglass, and they shut easily and with a satisfyingly solid feel. The electric windows on the demo car zoom up and down effortlessly - something that's not as easy to achieve as it sounds when you're using new channelling and rubber. Overall, the levels of trim in here are spot on.

The Beemer lump clicks into action with sewing machine smoothness. The comprehensive exhaust system includes the required catalytic converter and keeps noise at tickover to a refined thrum. Indeed the whole performance of the BMW straight-six is one of restraint rather than outright power. Give it some real stick with the right foot and there's certainly plenty of urge, accompanied by a wonderfully rounded 24-valve exhaust note, but the Cabrio remains fast rather than fearsome.

Plenty of torque makes this an effortless machine with which to cruise around the lanes, although gearing through the Getrag box makes the 3.62:1 differential seem surprisingly short. Marlin's Mark Matthews has also noticed this trait and we doubt the original diff will remain in place for long. As it stands, you can go straight into fifth gear and almost treat the car as an automatic.

At parking speeds the steering can get a little heavy - most probably a result of the larger 215 x 60 x 15 rubber this car is wearing compared to lesser engined examples with their more common 195 x 65 tyres. Still, once on the move it's soon forgotten and the steering feel is both responsive and well balanced. The double wishbone front suspension of the Cabrio helps in this department, with no bump-steer and a set-up that feels about perfect - maintaining control yet remaining supple.

Out back Marlin retains the Sierra's complete rear suspension package, save for the bulky support tube - instead bolting suspension components directly into the Cabrio chassis. The donor's original springs and dampers are retained, but mounting the springs in Marlin's own adjustable seats. Straight out of the box, this set-up felt a bit soft but Marlin always allows the cars to settle over the first few hundred miles before a final long-term set-up is reached. Discs on each corner should certainly ensure decent stopping power, but once again this machine's embryonic state showed that further adjustment was required to cure a distinctly spongy middle pedal.

On one of those days when the weather couldn't decide whether to rain or shine, we were giving the soft-top a real test and it's one of the simplest to operate that we've come across. A terrific metal frame allows the whole thing to be dropped back out of the way with ease while it can also be pulled up into place while remaining in the driver's seat. Clever sealing and secure latching means it not only looks good when up but should also keep out all but the very worst weather. Add in the decent heater and demisting facility and we can think of many worse places to be in a downpour.

While Marlin has been keen to emphasis the opportunities found with the BMW engines, it's important to remember that the Cabrio is essentially a one-donor car, making excellent use of its Sierra (or Granada) components. While the 4-cylinder Pinto lump may not have the kudos or character of a straight six engine, in its more developed forms it can provide extremely good, solid performance. And then there are the V6 options found in the XR4, offering plenty of lazy torque and a pleasing exhaust note. Ford's later Zetec engine would obviously be another option while multi-cylinder enthusiasts can always consider moving on to Rover's ubiquitous VS unit. All have been fitted at some stage or other.

Having said which, the Beemer lump certainly wins the votes of all those who manage a peek under the bonnet. Reveal the monster beneath, with its equally massive emblem, and it's the final piece of the puzzle which grants the Marlin serious status - oh yes, this is a car for grown-ups! As such, one can see why Marlin is keen to maintain the relationship because the Germanic manufacturer's image of build quality and performance clearly rubs off onto the Cabrio as soon as the link is made.

What's more, moving to a non-donor supplied engine needn't break the bank. This relatively new unit may cost around £1500 to source (and then you require a new exhaust etc), but older BMW straight-sixes can be found for hundreds rather than thousands. Build an all-Ford based car and the company reckons it can be done for as little as £8,000 and, with all the bells and whistles, up to f 12,000. A cheaper Beemer lump may add a total of £1,000 to any of those figures, but it's certainly not a great deal.

All of which makes the Cabrio an appealingly affordable traditional roadster, despite (and indeed perhaps because of) its retention of more modern donor components. Unlike many period offerings, the Cabrio doesn't require a fancy chromed windscreen and lacks much of the brightwork normally associated with such creations.

But our most recent visit to Marlin wasn't simply to sample the latest Cabrio demo car. The company has recently moved down the road from its old unit into a dedicated site which has been tailored specifically to the company's needs. A large workshop area now resides next door to a dedicated showroom and offices, while outside there is plenty of space for customer parking and the display of any cars that might be for sale.

It's a terrific site which the company hopes to develop into a specialist car centre for the South West dealing not only in Marlins but also other specialist cars. So if you need some servicing or other work done by a company which understands and appreciates kit cars, then Marlin's new set-up could be a real godsend. One thing is for sure - quality comes as standard.

MORE INFORMATION
Marlin Engineering, Mill Street, Crediton, Devon.
Tel: 01363 773772
Websites: www.marlincars.co.uk & www.marlinracing.co.uk
Article reprinted courtesy of Ian Stent and Which Kit magazine - May 2001.