Kit & Specialist Cars International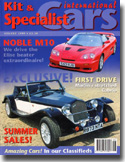 Marlin Cabrio test report.
Rich Mixture.
There are two very different sides to the Marlin Cabrio, a situation that's further emphasised by the latest long wheelbase version. The final blend, however, turns out to be very tasty. Peter Filby investigates.
Ahead of the long bonnet, the lovely chromed headlamps tuck down and allow sight of only their upper halves. The sidelights sit comfortably in their smooth housings atop the flowing wings. Just ahead of the screen base, four rows of neat louvers interrupt the bonnet's flawless surface but do so with stylish purpose.
Raise your line of vision to the windscreen frame's top rail and its highly polished aluminum capping glistens back. It looks a little heavyweight for such an elegant car but there's great purpose behind the large section sparkle: the frame doubles as a roll-over bar, hinting clearly that there's a tough, no-nonsense approach to the engineering down below.
Drop your eyes to the veneered walnut dashboard with its full range of white-on-black instruments and the impression of rich depth is further confirmed. The thickly padded, vinyl-trimmed dash top panel swoops gently from the door to door almost as a gesture of luxury. Beautifully detailed, the leather trimmed door panels turn gesture to statement.
The same leather is also used for the superbly comfortably, fully adjustable seats. I'm sat in one, my eyes are trained down that immaculately painted bonnet, occasionally flicking down to check the instruments and we're touring at a relaxed 60mph. There's precious little wind buffeting and we're talking calmly almost as if we're in the lounge.
This is unquestionably a class act. The ride is happily absorbing all the bumps and ignoring the poor or unrepaired road surfaces, and the steering refuses to be bumped off line. I'd prefer a traditional wood-rimmed steering wheel but the Cabrio has a thick leather rimmed Moto-Lita job (no doubt due to SVA) and it's not really so bad. Perhaps the steering fells seems a mite heavy at low speeds, but it soon lightens up as the car comes to life with a casual prod on the right-hand pedal.
That's the point about the Cabrio in touring mode: it's all so smooth, so easy to control, so relaxed and so comfortably. Hardly surprising that the great percentage of Marlin Cars' customers are late thirty and fourtysomethings and often a fraction older too! It's a car with which you can live in harmony, a sports tourer whose elegance and quality overshadow any need for aggression. It's been developed over so many years, bought up so well, that it no longer needs to prove anything.
Mind you, when the road opens out the Cabrio doesn't hesitate to respond. Drop the five-speed box down a gear or two, get firmed on the accelerator and torque V6 is keen to please. A Ford MT75 Sierra unit, the gearbox shifter is light and easy in action. It doesn't take long before 3500rpm in fifth sees a remarkably refined 80mph on the speedo.
The power, around 145bhp of it, is supplied by Ford's latest 2.3-litre DOHC 16V V6 unit as found in the Scorpio and Galaxy. It's a smooth, sophisticated engine that shifts that Cabrio's 760kg to 60mph in around 6 seconds and only runs out of steam at a maximum of 120 mph. Clearly, there's a serious performance side to this luxury tourer from which I've gained so much pleasure cruising the country roads. There again, minimize your gear changes and the engine's ample torque will compensate - if that's how you feel like driving.
The stereo unit, which looks a little incongruous sticking it's face up from the console area, is probably well worth having in this car, because you'd be able to hear it. I preferred this time to talk and was amazed how easily you could do so at high speeds - even at 80mph. The exhaust isn't noisy and, anyway, gets left behind as the Cabrio surges ahead. With both the electric windows raised, wind buffeting is remarkably restrained. End result? Along with the Royale Sabre, this it probably the most refined open sports car on the specialist market.
The electric window switches are tucked away on a shallow, full-width panel that runs just below - and slightly behind - the dash. It also holds the heater controls, lights and fog light switches. Your left elbow sits on the padded lid of a small oddments storage box, while there's a surprisingly useful dollop of space behind the adjustable seat backs for briefcases, soft bags, shopping etc. Then there's the boot which, if needed, will take lots more gubbins. And if you want to get into the boot through a locking panel behind the seats, then you can do just that.
Add into the picture a swiftly and easily erected hood and you complete an impressive list of practical features. A bar incorporated at the front of the hood sports a couple of meaty locating pins, which slip into matching holes in the windscreen frame. Two over-center clips and a final stiffener held in by Velcro straps complete the job. It's a doddle.
If you by now have the impression that the Cabrio is a thoroughly classy, thoroughly well equipped, thoroughly refined and a thoroughly practical machine, then you're spot on. True, good performance, grippy roadholding, confident braking and superb ride are all part of the package but, for the moment, it's that combination of hand-crafted class and everyday usability that makes the car so special.
How has the Cabrio, which I'd always thought of as more of a sporting chariot achieved this remarkable transition? With the advent of the latest long-wheelbase version, that's how. Indeed, without receiving much specific publicity, this model has been around since September 1997 when the first example was completed for a 6'6" customer who couldn't get into the MGF he'd previously fancied. I reckon the model's somewhat dull 'long-door' designation hasn't helped much - it could at least have been called the Cabrio Classic.
To gain the extra length, Marlin's craftsmen added 4" to the Cabrio's chassis, the doors getting two of those inches and the area behind the seats getting the other two. While they were at it, they also moved the pedals 2" further up the footwell. Now absolutely anyone will fit in the Cabrio, and it's hardly surprising that this model now represents around 95% of Cabrio production.
Built as long ago as April 1998, the test car is still immaculately presented. Shod with 195/65 tyres, the 15 x 7""multi-spooked alloys complement perfectly the glorious, traditionally styled bodywork. The two-tone paint scheme looks great on the largely aluminum body, glassfibre being used only for the radiator cowl, bulkhead well, dash support panel, tail section and wings front and rear.
Underneath the whole lot is a remarkably strong looking and unusual chassis that takes a whole week to manufacture. It's Marlin's unique peripheral frame, semi-monocoque assembly, fabricated from galvanised steel and incorporating the built-in windscreen frame/roll-over bar and mounting points for all necessities, including energy absorbing bumpers.
It's a substantial structure by any standards, a specialist car masterpiece designed by Marlin's founder, Paul Moorhouse, a man who went on to design and build passenger carrying mini-submarines. Says it all, doesn't it?
Right, the more hawk-eyed amongst you might have noticed that the 'Cabrio' actually carries Hunter badges. Effectively, the two names are almost the same thing, the Hunter being the turn-key version of the kit-form Cabrio. The big difference is price. A superb Hunter, finished to the highest standards like the demo car, powered by Ford's current Scorpio 2.3-litre 16 V V6 and finished with every luxury, would cost you £23,500 to drive away from the factory. Call it a sort of modern day Panther Lima or Kallista if you like, although it's arguably a much nicer car than they were.
If your budget doesn't stretch to twenty grand, then you can put your skills to work and build an almost identical car for around £10,000, the difference being that it would have Cabrio badges. Mind you, leave out the silky smooth, modern Ford V6 and go for something a little more obvious, like a 2-litre Pinto, Cologne 2.9-litre V6 or Rover V8, and you're starting to talk more sensible money. Opt for less luxurious, more functional trim and you could be looking at the underside of £8000. Just maybe.
This, mes braves, is the other side of Marlin, the kit car interpretation, the build-it-yourself chariot which casts pure comfort to the wind, makes a lot more noise and goes like the clappers. And predictably enough, the Hunter test car leans very much that way if driven with fire and passion. I know; I gave it the treatment.
Forget for a while the walnut dashboard, luxury trim and electric windows. Forget the dignified touring, the creature comforts and the overall refinement. Let's try this as a 'real' sports car. Shift into first, raise the revs and let's go. All that touring stuff is strictly for the middle aged....
Just as the figure say, the Hunter/Cabrio is really quite quick. Urge the revs up to around 5000 in each gear, the exhaust note changes to something more raucous and the big grip from the tyres comes into play as we charge along a superb twisting B-road just north of Crediton. Steering feel proves it's right on the ball and even on the tightest bends the Marlin runs perfectly neutral. Chassis balance is so good you being to think of the luxury tourer as a quite different animal and possibly very chuckable indeed.
Use the discs front, drums read braking firmly to control things before the bend, urge the wheel round and, power in, we're through without drama. Unphased by almost every pressure you put it under, this car is so well poised through every challenging corner. Only under the most extreme provocation could the tail even being to consider hanging out.
Driven like this, the Cabrio's responses are far sharper than you would ever imagine. Despite accelerator, steering, gearshift and brakes, the car seemed hungry to enjoy its unexpected change of use. The hugely strong chassis is clearly well up to every strain you care to put it through and utters not the merest groan or squeak. The ride, too, copes as well under a good thrashing as it does cruising.
Such exhilaration levels as I hit during this charge through the bends were more like those I remember with the original Cabrio. It'll never be quite as thrilling as a blaster as the likes of a Tiger, Westfield or Dax Rush but then the Cabrio will always present itself with added dignity and class. No hooliganism here, but definitely a rather interesting split personality that readily accommodates two very different driving styles.
On the one hand the latest Cabrio has a superbly engineered, production car side to its character. Naturally, this costs serious money. But without in any way foregoing the model's inherent design strengths and features, you can assemble it from a kit into as raucous a sports chariot as you wish. However you approach it, the end results is a quality machine that will reward you handsomely every time you're behind the wheel.
Starting point for a kit build is the Stage One assembly - essentially enabling you to build a rolling body/chassis - at a shade under £1700 + VAT. After that, various further stages enable you to fund the build according to your pocket or time available. Oh, and you'll need a Sierra Ghia donor car of 1986 vintage onwards.
Further details can be obtained from Terry Matthews, Marlin Cars, The Oaks, Down End, Lords Meadow Trading Estate, Crediton, Exeter, Devon. EX17 1HN, Tel: 01363-773773
Article - PETER FILBY, KSC International.